Checkups at St. Leonards Square Dental Care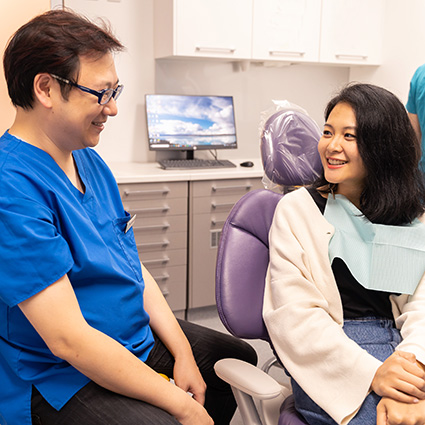 At St. Leonards Square Dental Care, we are passionate about taking a preventative approach to oral health. Having regular dental checkups with us, may decrease the chances of more serious tooth and gum conditions down the track. Conditions like gum disease and root canal infections can be avoided with proper oral hygiene and regular dental checkups.
Your Examination and Cleaning
The first step to enjoying a healthy, happy smile starts here. We encourage patients to have checkup and clean appointments every six months. When you see us for a dental checkup, our dentist will first do a thorough assessment of your teeth and gums. Post examination, we will do X-rays (if applicable) and discuss the results with you.
Following your X-rays, you will then have a thorough cleaning by our gentle dentist. For routine appointments, you may not require X-rays each time. Your checkup appointment will typically go for about 30-60 minutes and you will walk away with a clean smile and a customised treatment plan if necessary. We may develop this for you following your X-rays, so you can decide if you wish to consider further treatment or improve other areas which may need attention.
Dentist Dr Andrew is renowned for his gentle touch with dental care. He believes in prevention over cure which prevents more serious and costly treatments down the track. Patients love seeing Dr Andrew because of his peaceful and calm nature, making your visits even more relaxing than you thought. So, you can rest assured during your visit with Dr Andrew you will be taken care of as if you were part of the family.
How long does a checkup appointment take?

Our team like to take extra care with our patients to make sure they understand all the feedback given by the dentist. Your appointment time will take approximately 30-60 minutes. Dr Andrew and the entire team like to be very thorough before starting any treatment. You will walk away with all the required information to help make your decision on proceeding with any recommended treatment.
Will the cleaning remove any tartar or buildup on my teeth?

We provide a thorough dental cleaning which gently cleans and removes tartar such as plaque buildup around your teeth and gum lines. Tartar is also known as calculus and is an accumulation of minerals from your saliva and plaque which harden overtime. We strongly encourage patients to practice proper oral hygiene at home by brushing every morning and night and flossing at least once a day.
Can I bring my child in for a checkup and cleaning?

Of course! We love seeing children in our practice. We're great at explaining things to them in a fun way and want to give them a positive experience when seeing us. It's important to build good oral health habits from young to enjoy a healthy smile for life. It's important for kids to experience going to the dentist with their parents in a positive way. If you feel slightly anxious about going to the dentist in front of your child, they will sense that and take on some of the emotions. You can feel reassured you are in safe, gentle hands with Dr Andrew and our team at St. Leonards Square Dental Care. ?For more information about children's dental, please view our children's dentistry page to learn more.
I am anxious to go to the dentist. How do you help nervous patients?

At St. Leonards Square Dental Care we want to give you an experience like no other when you see us for your dental care. We are proud to be your healthcare provider and are renowned for our gentle, calm approach to dentistry. We will ensure you feel relaxed and comfortable during your entire visit with us. Dr Andrew is praised by patients because of his gentle and calm approach to dental care.
Do you accept health funds?

We accept all major health funds. Some health funds may even cover your whole bill! We advise you call your health fund to check your coverage and limits.
Do you have free parking on-site?

Yes, free parking is available on site. There is also paid parking on-site which you can use during your visit.
BOOK YOUR APPOINTMENT TODAY
Contact our team to book your checkup and clean at St. Leonards Square Dental Care! We accept all major health funds and welcome the whole family!
BOOK ONLINE

Checkups St Leonards, Crows Nest, Naremburn NSW | 02 9066 0100