Dental Implants at St. Leonards Square Dental Care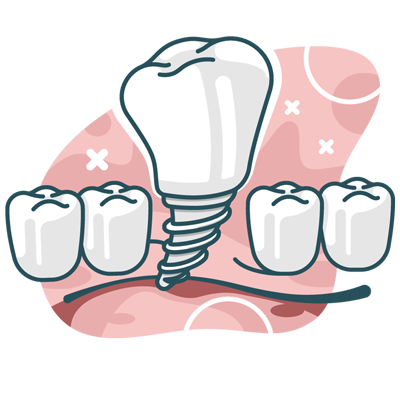 Ever wondered how dental implants can improve your smile? Perhaps you have missing or severely damaged teeth which require an extraction. If that is the case, dental implants might be the best solution for you.
Dental implants don't just have aesthetic benefits, however. They also provide your mouth with the support and structure it needs. If you have a missing tooth or multiple teeth in a row, the surrounding teeth don't have the support they need. This results in tooth movement and misaligned teeth. It can also lead to sore jaw and joint pain due to the mouth not having the supported structure it needs.
A Durable Tooth Replacement Option
Dental Implants are a state-of-the-art solution to tooth replacement. They are highly renowned for their strong durability and long-life and they work just like your natural teeth. Implants are second-to-none when it comes to a high-quality tooth replacement option.
They have a high success rate
They integrate with the bone for a long-lasting result
Patients can eat and chew foods just like normal
Support and retain your facial structure
Implants can replace more than one tooth, if needed
They do not affect the health of any other surrounding teeth
At our St Leonards office we are delighted to offer our patients REPLACEDENT®, which allows for digitally perfected, practically pain-free tooth replacement. In comparison, traditional implant surgery is a lengthy, invasive surgical procedure, and sometimes needs to be performed under general anaesthetic.
With REPLACEDENT, you can enjoy a predictable, optimal final result with minimal post-operative pain.
Here's what you can expect during our
three-step process:

The first step would be having you come in for a consultation with our dentist. Here we will assess your mouth and determine if you're a good candidate for dental implants. You can then book in your next appointment with us, where we can undergo the oral surgery and have the implant placed into your mouth.
STEP TWO: the procedure
Guided implant surgery uses a 3D printed guided template to assist in the placement of implant into the jawbone. The strong and accurate 3D printed guided template facilitates the implant placement in a most accurate manner and minimises human errors. This system ensures we position the implants exactly where we planned them.
Because it's a restoratively driven planning process, it means we make the guided template in a way for our planned position for the final restoration so it is in the optimal position for both aesthetic and functional aspects.
With help of the 3D guided template created with our advanced intraoral scanner technology, we can perform a minimal invasive keyhole surgical procedure that is simpler, faster, less traumatic and more accurate. It is a virtually pain-free procedure and gets the desired and digitally communicated end solution.
During your procedure, we will ensure you're comfortable and relaxed. Dr Andrew and his team are highly trained and experienced with dental implant procedures. We like to ensure our patients' comfort and will help relax even the most nervous patients.
Because the procedure is planned beforehand, there is the ability to deliver 3D printed guided template and temporary restoration in the same appointment. It means you can have a temporary restoration immediately after the surgery.
STEP THREE: placement of your restoration

The last, third stage of getting your dental implant involves you coming in once the jawbone completely heals. Typically, this can take a couple of months as the body recognises the implant and accepts it just like a normal tooth. We will then place a dental crown or bridge over the top of the implant, so you will have full functionality just like a normal tooth.
I'm nervous to get implant surgery, does it hurt?
St. Leonards Square Dental Care
work with even the most nervous patients so you can rest assured you're in safe hands. The dental implant procedure is done while you're under local anaesthesia so you will feel comfortable and relaxed.
Throughout your appointment, our dentist will be speaking with you and walking you through the whole process. We take pride in communicating with our patients thoroughly and having your experience be a relaxed and positive one. We will also advise you on how to manage any discomfort at home, which is easily addressed with over-the-counter pain relief.
Do I need to do anything differently at home to care for my new implant?
The best part about having a dental implant is treating it just like a normal tooth! You will need to maintain good oral hygiene habits, such as brushing morning and night and flossing at least once a day.
We also recommend coming in for six-monthly dental checkup and cleans. This will help keep your teeth and gums in optimal condition. We will also be able to check on the implant and teach you proper brushing and flossing techniques.
How long will my implant appointments take?

The actual implant procedure takes about 45-60 minutes. For any follow up appointments, they typically go for around 30 minutes. The entire process from start to finish takes about 3-4 months. This is because your jawbone takes some time to accept the implant and heal around it.
How much do dental implants cost?

This really depends on how many dental implants you require and whether you have a crown or bridge attached to it as well. We will go through all costs involved in your treatment plan when you come and see us for a consultation
How long will my implant last?

Dental implants are one of the longest-lasting tooth replacement solution. They are famous for their strong durability and state-of-the-art quality.
Experience the benefits firsthand when you visit us for your next appointment.
We know you'll love this advanced feature in our practice.
BOOK YOUR CONSULTATION
Not sure if dental implants are right for you? Give us a call and book a consultation with our dentist. Payment plans available so you can smile now and pay later.
BOOK ONLINE

Dental Implants St Leonards, Crows Nest, Naremburn NSW | 02 9066 0100