General Dentistry at St. Leonards Square Dental Care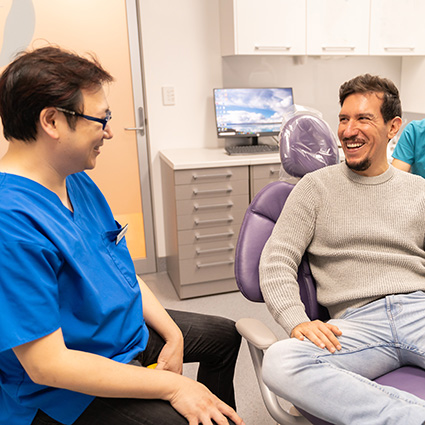 Helping our patients achieve happy, healthy smiles is our passion! Our practice features a broad array of general dental services that can help you and the entire family achieve a lifetime of optimal oral health.
Our friendly team have a preventative care approach to dentistry. We enjoy educating patients about being proactive with their oral health and to be on top of any minor issues, so they don't turn into anything more serious down the track.
Our wide range of general dentistry services include:
Check-up and Clean – Achieve optimal oral health with our thorough dental examinations and cleanings. X-rays will be taken.
Children's Dental Care – Our child-friendly practice welcomes your little ones with a smile. We love seeing kids enjoy their experience with us, so we make children's dentistry as fun and comfortable as possible!
Emergency Dental Care – If you're in pain or experiencing a dental emergency, call us right away and we will fit you in to our schedule. Same-day emergency visits available.
Extractions – If you're in need of an extraction, you're in safe hands. Dr Andrew and the entire team are renowned for their gentle touch when it comes to dentistry.
Gum Disease Treatment – If you think you may have gum disease, call us right away. It's important we have you booked in and treated with care so you can have optimal gum health.
Root Canal – We offer root canal treatment right here in our practice. If you're in pain or think you may need a root canal, call us to book your time with our dentist. It's important to address this straight away so it doesn't worsen overtime.
Occlusal Splint Therapy – The way your teeth bite together forms a specific relationship that we call an occlusion. But occasionally teeth may clench together, grind or meet inappropriately in a way that leads to complications.
TMJ Treatment – Do you have missing teeth? Restoring your smile can take extra pressure off of the parts of your mouth that are working overtime. Establishing a healthy overall bite allows your TMJ to work more efficiently, reducing strain and atypical motions.
Wisdom Teeth Removal – Depending on how the wisdom tooth is situated and if it's impacted within the jaw, we'll also need to check on the health of your adjacent teeth. If we deem that the wisdom teeth are a liability for your overall oral health, we will recommend having them removed.
To learn more about what else we offer, explore the rest of our services under restorative and cosmetic dentistry.
START YOUR JOURNEY TO A HEALTHIER SMILE
Book your appointment with us today. With a broad array of dental services, we are your one-stop shop to achieving a happy, healthy smile. Health funds accepted with on the spot claims.
BOOK ONLINE

General Dentistry St Leonards, Crows Nest, Naremburn NSW | 02 9066 0100