Veneers at St. Leonards Square Dental Care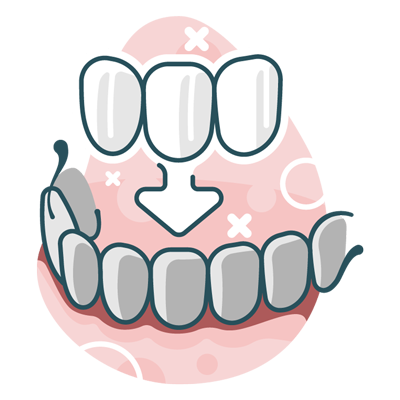 Ever wondered how dental veneers may improve your smile? Veneers can be a great way to mask imperfections such as chips, stains or slightly crooked teeth.
The team at St. Leonards Square Dental Care are highly skilled and trained in cosmetic dentistry. With state-of-the-art technology and modern techniques, our team are fully equipped to improve your smile.
Veneers are a popular aesthetic solution to improve your smile. They can be made from a composite resin material or porcelain. Veneers look like a thin, shell-like shape. They are bonded to your tooths surface using a strong bonding agent. They durable, stain-resistant and are long lasting.
Composite vs Porcelain Materials
Composite veneers are made from filling type material. They are more affordable than porcelain veneers and the procedure is much quicker. This type of dental veneer isn't as long lasting but is still a great solution for those needing veneers on a smaller budget. Composite veneers may also suit someone who has small imperfections or chips on one or few of their teeth, as it can be a quick and easy fix.
Porcelain veneers are a more premium, durable material for dental veneers. They appear like a thin shell that sits against the tooth surface. The porcelain veneer option is strong, stain resistant and is a higher-quality material. If you're wanting a better quality, long-lasting veneer, we suggest the porcelain veneers.
If you're considering dental veneers, the first step is to come in for a consultation. From there we will assess your teeth and gums and determine if you're a good candidate. From there, we will take impressions of your teeth so our dental lab can craft your veneers to suit your smile.
After a couple weeks, we should have your veneers back in our practice ready to be placed on. When you come in, we gently file down the tooths surface to make room for the veneer. Then, we apply a strong bonding agent which cements the veneer into place. The visit is quite simple and straightforward.
Investing in a new smile is something you should be proud of and look after for years to come! Making the most out of your new smile means taking care of it too. We encourage you to use a mouthguard at night to prevent any teeth grinding that may occur. A mouthguard protects your veneers from any damage during sleep and we can custom make this for you in our practice.
How many appointments does it take to get veneers?
It takes two appointments from start to finish to get your veneers. The first one we will have a consultation with you and determine if you're a candidate for veneers. We will also take impressions of your teeth so your veneers can be crafted in our lab.
Once they're ready, we will invite you in for a second visit where we will place the veneers on your teeth. You will walk away from your second appointment with a completely new smile.
Is it a painful procedure?
Typically, patients don't feel much discomfort.
Dr Andrew
is well-known for being very gentle in his touch to dentistry. During your procedure, we will gently file down some of your tooth's enamel so the veneer can fit perfectly. Most patients don't report any discomfort during this step of the procedure. Our team will make sure you are comfortable and relaxed during your appointment.
How many veneers will I need?

Patients tend to have around 6-8 veneers to fill their whole smile. Typically, this is the number of front teeth that show when you smile. It depends on what result you would like to achieve. We can go through this with you during your consultation.
Experience the benefits firsthand when you visit us for your next appointment.
We know you'll love this advanced feature in our practice.
START YOUR SMILE JOURNEY
Contact us to book your veneers consultation! We offer flexible payment plans and have a wide array of services to suit everyone's smile goals.
BOOK ONLINE

Veneers St Leonards, Crows Nest, Naremburn NSW | 02 9066 0100