Root Canal Treatment at St. Leonards Square Dental Care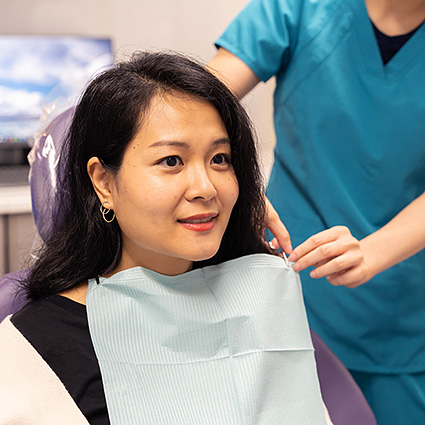 St. Leonards Square Dental Care are your one-stop-shop for the whole family's dental needs. We are located in convenient St Leonards and offer a broad array of dental services to help you enjoy a healthy smile. Sometimes, a root canal treatment is what saves your damaged tooth from being extracted. Where possible, we aim to keep your teeth intact and this is where a root canal treatment may be the best solution.
The Benefits of a Root Canal
The best part about root canal treatments is they effectively repair and save a severely damaged tooth. Millions of people have had their teeth saved via this effective treatment which we offer right here at St. Leonards Square Dental Care. Some other benefits include:
Removes infection in the mouth
Relieves pressure from inflammation
Eliminates tooth pain
You get to keep all your teeth intact
A root canal may be required if the soft tissue, known as the pulp, becomes inflamed or infected. The pulp is the soft tissue area inside the root canal and is typically caused by deep tooth decay or damage to the tooth. When there is an infection or damage to the root canal, it can lead to tooth loss if not treated promptly. ??When you have this soft tissue inflammation or infection, you may experience severe pain on the tooth and gum of the infected area. You may not even know that you have an infection on the root canal. If you're experiencing severe pain, we urge you to give us a call right away so we can schedule you in and get you out of pain as quickly as possible.
First step is to give us a call so we can schedule you in to see us right away. Our dentist will then do a dental examination of your teeth and gums and take X-rays on-site. We will then discuss the results with you and show you the scans so you can see the damage and decide if you would like to either have a root canal or extraction. ??We always explain your options thoroughly before commencing any treatment. This is because we want to ensure you're confident in making the best decision for yourself. ??If you decide to proceed with the root canal treatment, we will start by administering pain relief and a numbing agent, so your procedure is as comfortable as possible. Dr Andrew is renowned for being one of the gentlest dentists in town. In fact, he is often complimented by patients for his gentle and calm touch to dentistry. So, you'll be in the best hands to have a root canal done.
We will remove any signs of the infection and clean the canal. Once cleaned thoroughly, we seal off the root canal so no further bacteria can re-enter and infect the area. This way, we have preserved the natural tooth structure that is still there.

Yes, we offer interest-free payment plans available. We believe everyone deserves the right to a healthy smile, so we've introduced interest-free payment plans to give everyone the opportunity to achieve their best smile.
What If I'm anxious to see the dentist but think I may need a root canal?

St. Leonards Square Dental Care is a dental practice like no other. From the moment you walk in, you will be greeted with a smile and feel the calm ambiance in the room. We have relaxing music playing and a dentist renowned for being the gentlest in his touch to dentistry. During your procedure, we will also explain every step of the way and reassure you, so you are comfortable and relaxed. We also will administer pain relief and a numbing agent, so you have a comfortable experience during your treatment.
Do Root Canals Hurt?

Root canal treatment actually alleviates the pain coming from the damaged tooth and gum. To make sure you're comfortable, we'll numb the tooth with local anaesthetic and prescribe pain relief for you at home if it is required.
What if I prefer an extraction?
If you prefer to have the tooth extracted, we can do this for you on-site. We also have an array of tooth replacement options such as
dental bridges
or
implants
. A dental bridge works like a protective cap over the neighbouring tooth which bridges over the gap. Our bridges are custom crafted from the highest quality materials and look just like your natural tooth. ??Dental implants are a strong, long lasting tooth replacement option. They are made with a durable titanium head which is gently placed in the jawbone just like a normal tooth. They can be colour matched to your smile, so they blend in perfectly.
EXPERIENCE GENTLE DENTISTRY
Call us to book in your appointment with our calm and friendly dentist. We look forward to making you feel comfortable and giving you the best dental care.
BOOK ONLINE

Root Canal Treatment St Leonards, Crows Nest, Naremburn NSW | 02 9066 0100