Crowns and Bridges at St. Leonards Square Dental Care
St. Leonards Square Dental Care provide a wide range of cosmetic dentistry options to restore and improve your smile. Our modern practice features on-site X-rays, advanced technology, payment plans and a beautiful, calm ambiance. Dentist Dr Andrew is well known for gentle and calm nature. His approach to dental care reassures even the most anxious patients. Over time, if your teeth become damaged or worn down, you may require a dental crown to restore it back to life. Or, perhaps you have a missing tooth and want to fill the gap. This is where a bridge might be your best option. Fortunately, we have both services available here at our practice.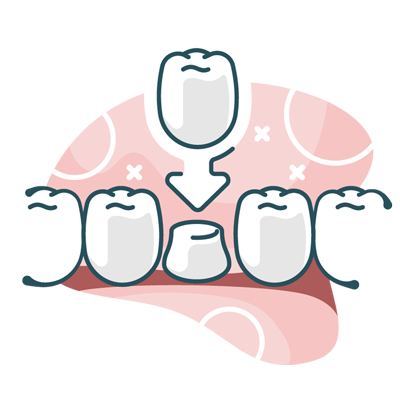 Crowns are a restorative and cosmetic dentistry solution. They are generally used for treatment if a patient's tooth is damaged such as cracked or worn down. Leaving a tooth in such a state, will increase the chances for further damage and possibly infection. You may also had experienced an accident or dental emergency which caused the sudden damage, either way, we have you covered! Dental crowns are a custom crafted tooth restoration cap. It works either as a protection to the damaged tooth or, a cosmetic solution to improve the look of the tooth.
The Procedure for Getting a Crown
The first step is to come in for a consultation so we can assess your teeth and take X-rays if needed. Once we discuss all your options with you and you decide to move forward, we will then provide you with a local anaesthetic, so your experience is as comfortable as possible. We then gently trim down the damaged tooth to make room for the crown and take impressions so your crown can be made to fit perfectly. You will leave the practice with a temporary crown so you can eat and chew as normal. After approximately 1-2 weeks when your crown is complete, we will give you a call to come in and have your permanent crown placed.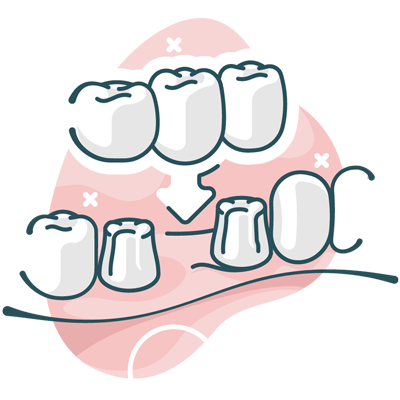 A dental bridge is a popular tooth replacement option for those wanting to fill the gap from a missing tooth. They are durably secured to the neighbouring tooth by the gap and are a long-lasting tooth replacement solution. A dental bridge can also be used to replace a few teeth in a row. As a more affordable treatment to dental implants, a bright may be a great option to tooth replacement. We have to assess your teeth first before we're able to offer dental bridges as the right missing tooth solution. This is because your neighbouring teeth need to be strong and healthy in order to hold the bridge in place. Once we assess your teeth and we're good to go, we take impressions of your teeth beside the gap and have your bridge custom made. Once it's ready after 1-2 weeks, we will call you so you can come in and have your bridge permanently placed.
Replacement Alternatives to Dental Bridges
If a dental bridge isn't the right option for you, we also provide dental implants and dentures at our practice. These may be a better option if your neighbouring teeth are not strong or healthy enough to hold a dental bridge. If that is the case, we will discuss dental implants and dentures with you so you can make an informed decision.
How long will my appointment take?
Your first appointment will take anywhere from 30 minutes to 1 hour, depending on how complex the case is. You will walk away with a temporary crown so you can eat and chew as normal and we will give you a call to come back when your permanent crown is ready. This is typically 1-2 weeks after.
How long will my crown or bridge last?
You can expect your dental crown or bridge to last anywhere from 7-15 years. It really depends on your oral hygiene habits, diet and lifestyle. We encourage you to see us every 6 months for a dental checkup and clean so we can help keep your teeth and gums in optimal condition. If you need your crown or bridge restored, we can do that for you down the track when it is needed.
How do I know if I need a crown or bridge?
If you have a damaged tooth which is worn down or cracked, a crown may be your best option to restore its life and protect it from further damage.
Experience the benefits firsthand when you visit us for your next appointment. We know you'll love this advanced feature in our practice.
PROTECT AND RESTORE YOUR SMILE!
Contact us today to book your consultation. We offer flexible payment plans and accept all major health funds. BOOK ONLINE

Crowns & Bridges St Leonards, Crows Nest, Naremburn NSW | 02 9066 0100