Cosmetic Dentistry at St. Leonards Square Dental Care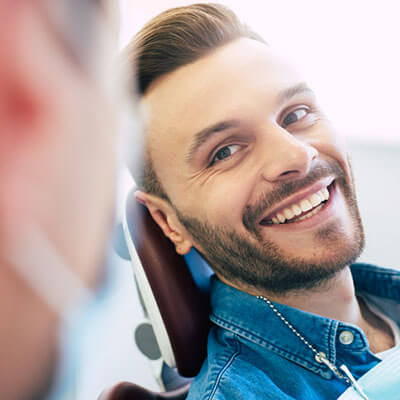 St. Leonards Square Dental Care offer a broad array of cosmetic dental services. If you feel insecure about misaligned, missing or stained teeth, you've come to the right place to improve the look of your smile.
A bright, confident smile is one to love and feel confident about. We enjoy creating a smile journey that is unique to you and your lifestyle. With our range of cosmetic options and advanced technology, you can get your smile back.
Your Cosmetic Dentistry Consultation
The first step to improving the look of your teeth is a consultation with our dentist. Dr Andrew and the team are highly experienced and trained in cosmetic dental services. We pride ourselves on high-quality work and our patients experience in our practice. You will be treated as if you're part of the family in our calm, gentle environment.
Our Range of Cosmetic Services Include:
Teeth Whitening – Our teeth whitening services are supported by world-leading Zoom teeth whitening brand. Zoom is known across the globe for its high-quality formula and spectacular results.
Before you have a tooth whitening treatment with us, we like to ensure your teeth and gums are suitable and healthy for whitening. If you require a dental clean prior to whitening treatment, we can do this for you beforehand. It's important your teeth and gums are in good health before applying whitening. This way, you will not only experience better results, but it can also avoid further deterioration if there is existing damage present.
Dental Veneers – Ever wondered what your teeth would look like with dental veneers? You can improve the appearance of your smile using our long-lasting veneers. It is a two-appointment process and you'll then be able to confidently show off your new smile.
There are types of veneers: composite and porcelain. Composite veneers are made out of a filling type material which is quicker and more affordable. Composite veneers do not last as long as porcelain but are still a great option depending on your circumstance. ??Porcelain veneers are a long-lasting cosmetic solution. They are applied to your teeth with a bonding solution and last for many years to come. It's important to take care of your porcelain veneers, so we recommend using a mouthguard at nights when sleeping.
Dental Crowns – Dental crowns are a great solution for those looking to either restore or improve the look of your smile. A crown works like a tooth shaped cap which is placed over a tooth with compromised structure or appearance. It restores the look and function of a normal healthy tooth and is long-lasting with good care. ??While your crown is being made, we will create you a temporary crown on the same day so you can walk away with comfort. When your permanent crown is ready, we will give you a call so you can come in and have the crown placed. ??Another benefit of having a dental crown is that you can enjoy all the foods you want again without discomfort or worry that you may have experienced before. You won't have to worry about the crown being noticeable either – it blends in nicely and is accurately colour-matched to the rest of your teeth.
Bridges – A dental bridge is a cosmetic dentistry option for those with a missing tooth and wanting to bridge the gap. A dental bridge is secured to the neighbouring tooth next to the gap and can replace one or few missing teeth in a row. While your bridge is being crafted in the lab, we will provide you with a temporary same-day bridge, similar to a temporary crown.
Choosing a dental bridge as a missing tooth solution is a cost-effective replacement. It will fulfil the same purpose of a dental implant or partial denture. We can discuss all our treatment options to you at your first appointment, so you can feel confident choosing the best tooth replacement option that suits you.??There are different materials available for dental bridges to suit your lifestyle and budget. We will walk you through all of your options during your first consultation so you can decide which material suits you best. When your permanent bridge is ready, we will give you a call and schedule your appointment so you can come in and have the bridge placed.
READY TO START YOUR NEW SMILE JOURNEY?
Contact our friendly team today to learn more about our cosmetic dentistry options. With a broad range of cosmetic services and a highly trained team, we are ready to start your smile journey with you. Call today to book your appointment!
BOOK ONLINE

Cosmetic Dentistry St Leonards, Crows Nest, Naremburn NSW | 02 9066 0100