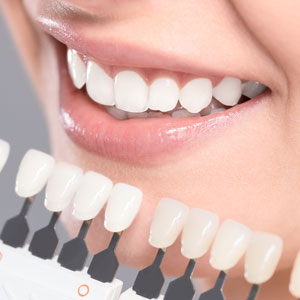 Teeth Whitening at
St. Leonards Square Dental Care
St. Leonards Square Dental Care have an array of cosmetic dentistry services to improve and restore your smile. Our team are highly trained in cosmetic dentistry techniques and have an eye for aesthetics. If you're wanting to improve the look of your smile, we encourage you to come in for a consultation with our dentist!
Teeth whitening is one of the quickest, most affordable ways to improve the look of your smile. If you feel unhappy about your teeth due to staining discolouration, you may be a candidate for our professional-grade teeth whitening.
Not everyone is a good candidate for whitening.
We recommend a checkup and clean prior to whitening for optimum results.
Cannot be used in conjunction with other offers or redeemed for cash.
Zoom! In-Chair Whitening
At St. Leonards Square Dental Care, we're proud to offer patients the best when it comes to advanced whitening options. To help patients achieve their bright smile goals, we use the Zoom! In-chair whitening system, designed to whiten a smile several shades in just one visit to the practice.
This whitening system offers results in just 90 minutes, with results lasting anywhere from one to three years depending on if a patient follows proper oral health protocols. Professionally applied by your friendly local dentist.
Interested in giving the Zoom system a try? Here's more about what you can expect.
Benefits of Zoom Whitening
This advanced whitening system is safe and effective when it comes to brightening your smile. Patients love that it uses LED technology, which involves simply applying a whitening gel and a blue light to activate it. While a patient sits back and relaxes, their teeth whiten. It's that simple.
After your treatment, we recommend that you don't consume any dark color foods or drinks for 48 hours. This is because teeth whitening makes the pores of your teeth open, which allows the whitening agent to get deep into your teeth. When your teeth are porous, they're more susceptible to dark stains, too.
After 48 hours, a patient can return to their normal diet.
Take-Home Whitening
We also offer take-home options so you can brighten your teeth at your convenience. Zoom! and Opalescence™ home whitening products are professional-grade bleaching gels you use daily for two weeks or more to achieve your desired shade. We'll create custom trays and provide you with the gel and instructions on how to get the best results. Your teeth will lighten gradually, provided you don't smoke or eat or drink staining foods and beverages until after the process is complete.
Learn More Today
Find out if you're a candidate for Zoom whitening by giving our practice a call to learn more or book a visit with us. We can't wait to help you achieve your goals. Get started today!
Frequently Asked Questions
Will my teeth feel really sensitive after?
It is common to have some tooth sensitivity after teeth whitening treatment. It typically goes away after a few days and should only be mild. It is recommended to use a gentle, sensitive toothpaste to help with the sensitivity.
Does it hurt to have my teeth whitened?
Most patients don't feel a thing it isn't considered an invasive surgery. If you decide to have in-chair whitening, the appointment will take about 90 minutes. You will lay comfortably in the dental chair whilst waiting for the whitening solution to take effect.
What food should I avoid after whitening?
We recommend you stay clear from colour rich foods or drinks. These include but are not limited to:
Tea or coffee
Red wine
Cola or other soft drinks
Acidic beverages
Soy sauce
Ketchup
Berries
Curry
Smoking is a huge contributor to staining and damaging your teeth. If you're thinking about quitting, we are happy to provide you with some helpful resources.
While results can last a number of years they aren't permanent, and the duration will depend on your diet and oral health habits. However, you will get best long-lasing results if you take care of your teeth and avoid the above colour-rich food and drinks. 
How do I know if my teeth are suitable for whitening?
We ask that you
book in a consultation with our friendly dentist
. We will be able to assess your teeth and gums and determine if you're a good candidate for teeth whitening.
If you require any general or restorative work, we can plan this prior to teeth whitening treatment.
BRIGHTEN YOUR SMILE TODAY
Book your consultation today for a whiter, brighter smile. We have payment plans available and flexible appointment times.
BOOK ONLINE

Teeth Whitening St Leonards, Crowsnest, Naremburn NSW | 02 9066 0100