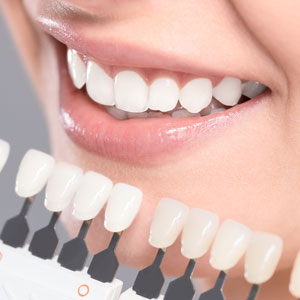 Teeth Whitening at
St. Leonards Square Dental Care
St. Leonards Square Dental Care have an array of cosmetic dentistry services to improve and restore your smile. Our team are highly trained in cosmetic dentistry techniques and have an eye for aesthetics. If you're wanting to improve the look of your smile, we encourage you to come in for a consultation with our dentist!
Teeth whitening is one of the quickest, most affordable ways to improve the look of your smile. If you feel unhappy about your teeth due to staining discolouration, you may be a candidate for our professional-grade teeth whitening.
Frequently Asked Questions
Will my teeth feel really sensitive after?
It is common to have some tooth sensitivity after teeth whitening treatment. It typically goes away after a few days and should only be mild. It is recommended to use a gentle, sensitive toothpaste to help with the sensitivity.
Does it hurt to have my teeth whitened?
Most patients don't feel a thing it isn't considered an invasive surgery. If you decide to have in-chair whitening, the appointment will take about 2 hours. You will lay comfortably in the dental chair whilst waiting for the whitening solution to take effect.
What food should I avoid after whitening?
We recommend you stay clear from colour rich foods or drinks. These include but are not limited to:
Tea or coffee
Red wine
Cola or other soft drinks
Acidic beverages
Soy sauce
Ketchup
Berries
Smoking is a huge contributor to staining and damaging your teeth. If you're thinking about quitting, we are happy to provide you with some helpful resources.
Can I have my whitening touched up?
You certainly can. We provide you with a take-home kit so you can maintain the results at home. We will also provide you with at home instructions, so you know exactly how and when to use your whitening kit.
Along with whitening your teeth, it's important to maintain proper oral health and hygiene. We recommend brushing your teeth morning and night and floss daily. This will help keep your teeth and gums in a healthy condition.
Results will vary based on individual diet and lifestyle. However, you will get best long-lasing results if you take care of your teeth and avoid the above colour-rich food and drinks.
How do I know if my teeth are suitable for whitening?
We ask that you
book in a consultation with our friendly dentist
. We will be able to assess your teeth and gums and determine if you're a good candidate for teeth whitening.
If you require any general or restorative work, we can plan this prior to teeth whitening treatment. We also offer interest-free payment plans so you can get your smile back now and pay later!
BRIGHTEN YOUR SMILE TODAY
Book your consultation today for a whiter, brighter smile. We have payment plans available and flexible appointment times.
CONTACT US

Teeth Whitening St Leonards, Crowsnest, Naremburn NSW | 02 9066 0100