Fillings at St. Leonards Square Dental Care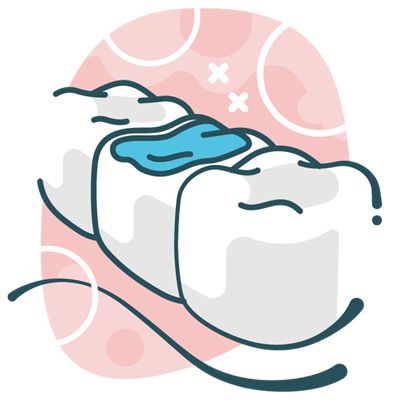 The team at St. Leonards Square Dental Care are your one-stop family shop for all your dental needs. We offer a wide range of general dental services and have the technology and modern techniques to take care of the whole family.
Dental fillings are one of the most common procedures done here at our practice. Unfortunately, tooth decay and plaque can cause cavities in your teeth when not cleaned thoroughly with proper oral hygiene. This is where dental fillings can restore your teeth back to a healthy state.
The Filling Process
Coming to St. Leonards Square Dental Care for dental fillings is an easy, single step procedure. When you come in for your checkup and clean, we assess all your teeth and ensure there are no cavities present. If cavaties are present, we can give you a filling there and then, which takes about 10-30 minutes per filling, in most cases.
The filling is made out of a safe, non-toxic composite material. It looks just like your normal tooth colour and blends in perfectly with your teeth.
If you're experiencing sudden dental pain, we encourage you to call us right away. We have same-day visits available as much as possible so we can get you out of pain, quickly. A common cause of dental pain is due to a cavity. This is a hole in the tooth, mostly caused by bacteria.
Our first priority is to get you out of pain as quickly as possible. You may wish to take over-the-counter pain relief before you see us. Always follow the instruction on the label and let us know what you've taken when you arrive.
During your visit, we will assess the emergency and if it is due to a cavity, we will perform the filling process. We will clean the area thoroughly removing any plaque which may have caused the cavity. Then, we will numb the area and gently apply the tooth-coloured filling inside the cavity.
Do you have a silver filling in your mouth? These are known as amalgam fillings. Many years ago, this silver material was the go-to for treating fillings in dental practice. As the years went by, technology advanced and new, composite fillings are the new standard.
White fillings are not only more aesthetically pleasing but also safer for your body. Research has proven concerns over the years on the safety of amalgam fillings. Fortunately, we can remove any old ones and replace them with a new white, composite filling.
There are two types of filling material which we use in our practice. These are composite resin and porcelain.
Composite resin is a colour-matched plastic type filling. It is safe and comfortable for your mouth and looks just like the rest of your teeth. This type of filling is applied and cured with a UV light. This allows the solution to harden as it bonds to the tooth surface. A filling can take anywhere from 15-30 minutes each.
Porcelain fillings are a longer-lasting, higher quality material. They are fitted in place with a strong bonding agent and are a natural shine material which blend in perfectly to a real tooth. These fillings are strong and last for many years to come.
I'm nervous about seeing the dentist but feel like I need a filling. What do you do to take care of highly nervous patients?
The team at St. Leonards Square Dental Care are highly experienced in dealing with even the most anxious patients.
Dr Andrew
is well-known for being extremely gentle with his hands in dental care.
We take pride in over-communicating with patients, ensuring they are comfortable and relaxed during their procedure. We also apply a local anaesthetic for your comfort during the short filling procedure. ??
How many appointments will I need for a filling??

St. Leonards Square Dental Care is a modern dental practice with latest technologies and techniques to give you a convenient experience. We will typically be able to complete a filling procedure in one visit and it takes anywhere from 10-30 minutes per filling.
Do you accept health funds??

We accept all health funds and have a HICAPS on site for fast, on-the-spot claims. We also have payment plans available if you were wanting any other treatment in addition to your fillings.
BOOK YOUR APPOINTMENT TODAY
Contact us today to book in your next visit! We have a conveniently located practice in St Leonards and accept all health funds. Call today!
BOOK ONLINE

Fillings St Leonards, Crows Nest, Naremburn NSW | 02 9066 0100