Dentures at St. Leonards Square Dental Care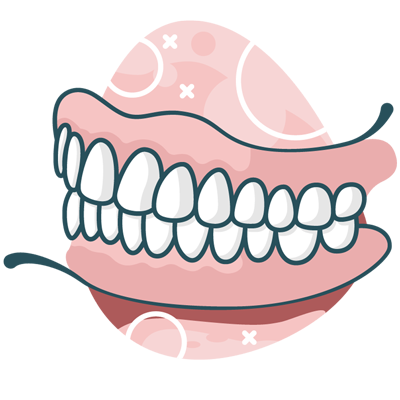 St. Leonards Square Dental Care are proud to offer restorative and cosmetic services to fit the whole family. With our modern techniques and technology, you're in the best hands for your dental care. Dentures are a tried and true solution to replacing missing teeth. They have advanced in design and are more comfortable than ever before.
Having missing teeth can not only cause aesthetic concerns, but also structural issues that may arise. When there is a gap in your teeth, the neighbouring teeth start to move causing a misaligned smile.
Today, dentures are more comfortable and modern than they have ever used to be. Most patients forget they're wearing them due to their comfort.
Full and Partial Dentures
St. Leonards Square Dental Care are proud to offer both full and partial dentures. Dr Andrew and the team are trained and experienced on treating patients with the perfect denture. It is our goal to ensure you are confident and understand the entire procedure, so we explain everything thoroughly before moving forward with any treatment.
As dental technology has advanced, there are more modern denture designs than ever to choose from.
We offer a variety of denture designs to fit all patient's unique lifestyle and needs. If you have multiple teeth to replace, or a full mouth restoration, we have you covered!
Complete Dentures – This is the traditional type of denture which covers your entire upper or lower arch.
Flexible Dentures – These dentures are natural coloured like your jaw and can be known to be more comfortable. They also give off an improved aesthetic result.
Partial Dentures – A partial denture is a removable appliance which completes the missing tooth gaps in your smile.
During your consultation, we will discuss your options and discover which denture design will suit you best. We also offer other tooth restoration options such as dental bridges and implants.
You may have a reasonable amount covered by your private health insurer. Many providers will cover dentures in dental extras cover. Health fund cover varies, so it's best to give your insurer a call to find out the details of your coverage.
If you don't have a health fund cover, the price will depend on what type of denture you need. We will assess your teeth and mouth when you come in for a consultation so we can determine which denture would be best suited for you.
Do you offer payment plans?

St. Leonards Square Dental Care are proud to offer interest-free payment plans so everyone can smile confidently and pay later. We can arrange this for you at your visit.
How long do dentures last?

Dentures are a durable, long lasting tooth replacement solution. They can last for decades but may need occasional maintenance and repair. It's important to come in for six-monthly checkups so we can assess your dentures and make any adjustments necessary. After approximately 7 years, you may need a new denture designed which will feel more comfortable and fitted to your jaw.
Do dentures affect the way you speak or eat?

Sometimes patients feel it takes some time to get used to their new denture. You may experience some discomfort in the beginning, but over time you will feel more comfortable with your new denture.
Do I need to continue seeing a dentist after receiving my full-mouth dentures?
Of course. We recommend you continue to see us for
routine checkups
so we can examine your whole mouth. Seeing the dentist is not just about the teeth, we look at your jaw, bite, soft tissues, gums and more. We also screen your mouth for any oral cancer.
It's important to see us to ensure your oral health remains at an optimal condition.
Do you offer an alternative to dentures?
St. Leonards Square Dental Care offer an array of
cosmetic
and
restorative dentistry
options. During your consultation, we will discuss with you all tooth replacement options so you can make an informed decision. We take a lot of care in thoroughly explaining everything prior to any treatment. We want you to feel confident and comfortable in your treatment decision.
BOOK YOUR DENTURE CONSULTATION
Contact our team today to book in your denture consultation! We offer flexible payment plans and accept all private health funds. Call today!
BOOK ONLINE

Dentures St Leonards, Crows Nest, Naremburn NSW | 02 9066 0100