Restorative Dentistry at St. Leonards Square Dental Care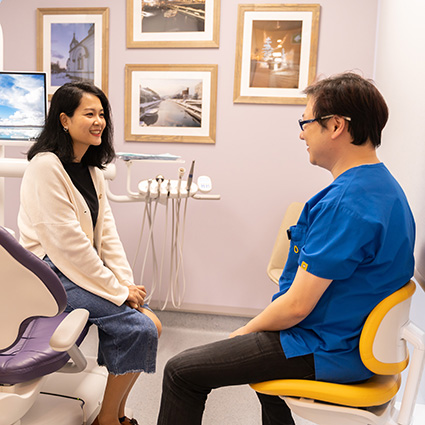 The team at St. Leonards Square Dental Care are pleased to provide the highest quality dental care to the entire family. With our modern equipment and techniques, you're in the best hands for your oral health.
If you're smile is in need of some tender love and care, you've come to the right place. Restorative dentistry is focused around improving and restoring your teeth. If you have had some damage to your teeth from a sporting injury, or have missing teeth, we will be able to help you to restore your smile again.
Your First Consultation
The first step to restoring your smile is booking in a consultation with our dentist. This is an important step of the process so we can assess your teeth and gums and see what we need to do to improve the current state. Once we do a thorough examination and consultation, you will walk away with a recommended treatment plan. We like to take care with every patient and explain treatments thoroughly, so you feel confident before moving forward.
Our Range of Restorative Options:
Fillings – Our dental fillings are natural looking and will blend in with your smile. We can even help remove old ones and place new filling where needed. Coming to St. Leonards Square Dental Care for dental fillings is an easy, single step procedure. When you come in for your checkup and clean, we assess all your teeth and ensure there are no cavities present. If there is, we can give you a feeling there and then, which takes about 10-30 minutes per filling, in most cases.
Crowns and Bridges – If you have cracked or damaged teeth, we can address this with our dental crowns and bridges. Over time, if your teeth become damaged or worn down, you may require a dental crown to restore it back to life. Or, perhaps you have a missing tooth and want to fill the gap. This is where a bridge might be your best option. Fortunately, we have both services available here at our practice.
Dental Implants – Dental implants are a great long-term, durable solution to missing teeth. They can replace one or more missing teeth and should last for a long time. Dental Implants are a state-of-the-art solution to tooth replacement. They are highly renowned for their strong durability and long-life and they work just like your natural teeth. Implants are second-to-none when it comes to a high-quality tooth replacement option
Dentures – Dentures are a tried-and-true solution for missing teeth. Our dentures are modern, comfortable and crafted custom for you. Having missing teeth can not only cause aesthetic concerns, but also structural issues that may arise. When there is a gap in your teeth, the neighbouring teeth start to move causing a misaligned smile. Today, dentures are more comfortable and modern than they have ever used to be. Most patients forget they're wearing them due to their comfort.
RESTORE YOUR SMILE TODAY
Learn more about how our restorative dentistry options can improve your teeth. Contact our friendly team today to book your appointment!
BOOK ONLINE

Restorative Dentistry St Leonards, Crows Nest, Naremburn NSW | 02 9066 0100