Custom Mouthguards at St. Leonards Square Dental Care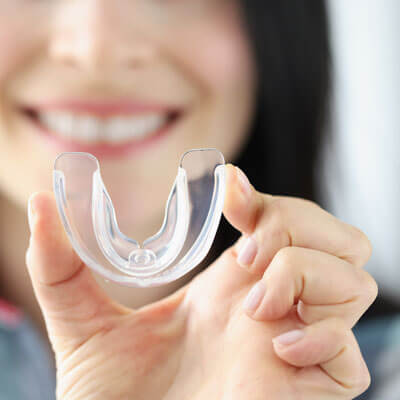 St. Leonards Square Dental Care offers custom sports mouthguards for patients of all ages. Dr Andrew (Dentist) recommends wearing these protective appliances during contact sports or any activity where oral trauma might occur.
Custom vs Over the Counter
It's common to find sports mouthguards at the pharmacy, but are they as effective as one fitted by a dentist? Unfortunately, no.
Custom-fitted oral appliances offer better protection and comfort. Most importantly, they're less likely to fall out on impact, protecting your lips, teeth and tongue when injuries are most common. A stock guard found in the store is typically much more cumbersome and looser-fitting over the teeth.
Customisable to the Athlete
Our sports mouth protectors are customisable to your preferences. Choose from a wide range of colours to match your athletic jersey or favourite team.
Frequently Asked Questions
How long do sports mouthguards last?
Most adults can wear their mouth protector for at least a few years before they need to replace it. Since children's mouths are still growing at a rapid pace, it's typically best to change out their mouthguard at least once a year. These updates will ensure the device fits snuggly and offers the protection necessary during their activities.
We use digital scanning equipment to take a mess-free virtual impression of your teeth. This digital mould is sent to our lab where your mouthguard is fabricated. About two weeks later, it will be ready for you to try in to ensure everything fits properly.
Any child, teen or adult who is involved in a sport where falls, bumps or other injuries may occur should wear a mouthguard. A protective sport mouthguard can reduce the chances of broken or knocked-out teeth, jaw injuries, facial lacerations and even concussions.
Reserve a Consultation
Do you or your child need a protective sports mouthguard? Contact our office today to request a consultation.
BOOK ONLINE

Custom Mouthguards St Leonards, Crows Nest, Naremburn NSW | 02 9066 0100